Bouddhisme et méditation pour un monde moderne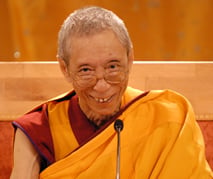 Bienvenue sur le site web de la Nouvelle Tradition Kadampa – l'Union Internationale du Bouddhisme Kadampa fondée par Vénérable Guéshé Kelsang Gyatso.
Vous y trouverez des informations sur les :
Utilisez les liens ci-dessus pour en découvrir plus.
Inspiring Quote
There are two types of meditation: analytical meditation and placement meditation. Analytical meditation involves contemplating the meaning of a spiritual instruction that we have heard or read. By contemplating such instructions deeply, eventually we reach a definite conclusion or cause a specific virtuous state of mind to arise. This is the object of placement meditation. We then concentrate single-pointedly on this conclusion or virtuous state of mind for as long as possible to become deeply acquainted with it. This single-pointed concentration is placement meditation.
Geshe Kelsang Gyatso