VENERABLE GESHE KELSANG GYATSO RINPOCHE
(1931-2022)
The Founder of Modern Buddhism
A Life of supreme dedication
After engaging in the traditional trainings of a monk from a young age in Tibet, Venerable Geshe-la withdrew to remote areas in Tibet and India to engage in meditative retreats.
During these retreats he received many signs and visions in which Je Tsongkhapa appeared to him and clarified all the essential teachings of Sutra and Tantra, and especially the Ganden Oral Lineage.
It was during these retreats that Venerable Geshe-la formed an especially close connection with the people of this world and made a lifelong dedication to helping us find lasting peace and happiness through the teachings of Buddha.
Then in 1977 Venerable Geshe-la accepted an invitation to become the Resident Teacher at the fledgling Manjushri Centre in the UK.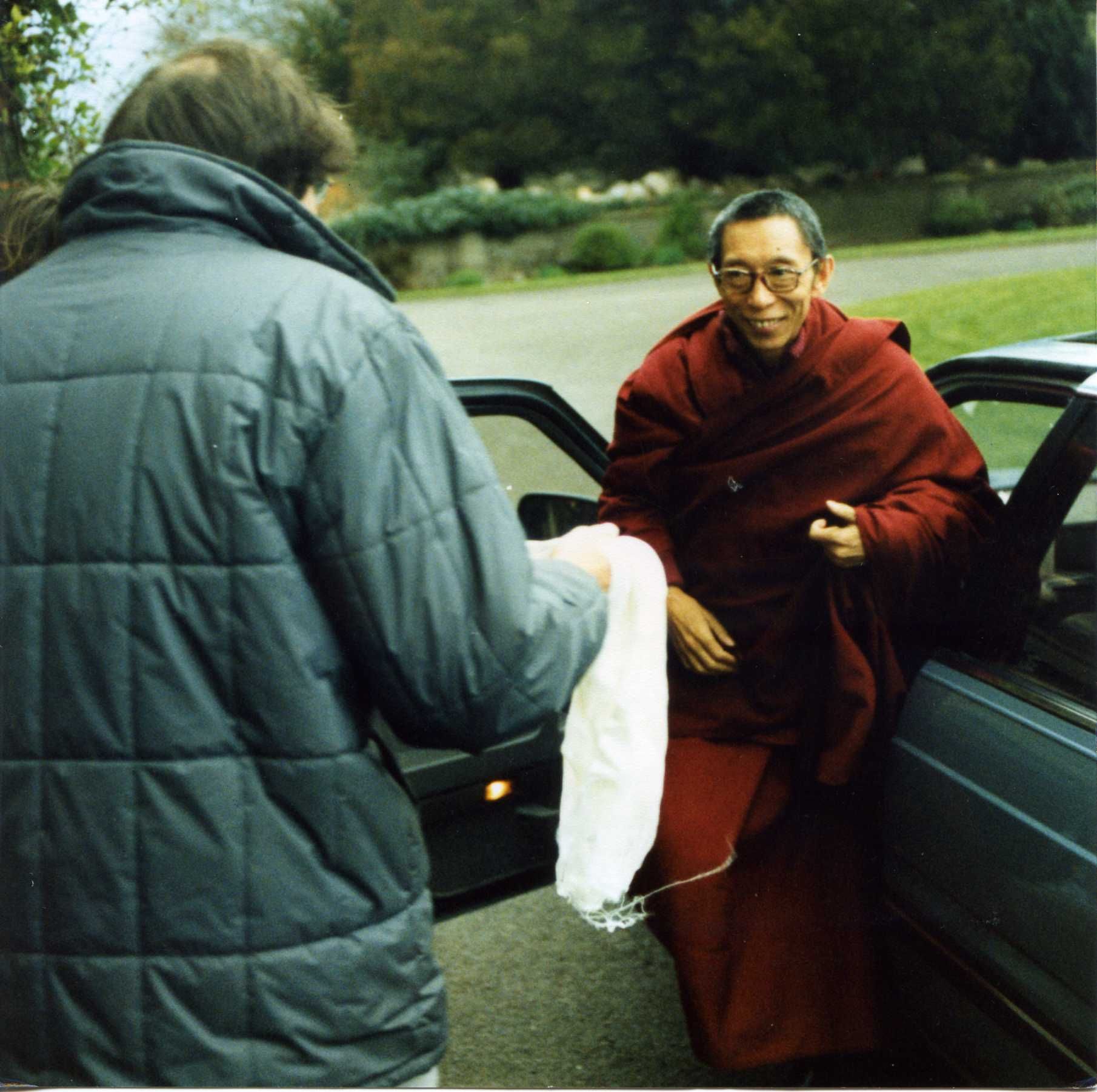 Appearing in the west
On August 27, 1977 Venerable Geshe-la arrived in the west at the invitation of Manjushri KMC. His arrival heralded the dawn of Modern Buddhism and a new spirit of hope in this world.
Almost immediately, Venerable Geshe-la opened his first Dharma center in the West, Madhyamaka KMC in the UK. He went on to establish literally hundreds of centers around the world.
In 1997, Venerable Geshe-la designed, blessed and opened the first Kadampa Temple for World Peace at Manjushri KMC. Later, he created five other such Temples.
Venerable Geshe-la oversaw the design, production and finishing of new statues and artwork for all of the new Temples. Here he is welcoming from the foundry the first Buddha statue that he designed for the Temple. Later he established Kadampa Art Studio to provide qualified statues and art for future Temples and centers.
Venerable Geshe-la gave literally thousands of teachings at Manjushri KMC and other centers around the world, including Spring, Summer and Fall Festivals. These extraordinary teachings were unique and life-changing for everyone who heard them.
In total Venerable Geshe-la composed 23 extraordinary books on Buddhism and meditation. Based on these, he developed the three study programs - the General, Foundation and Teacher Training Programs - that are the core of all Kadampa centers around the world. In addition, hundreds of qualified modern Kadampa teachers are arising from the Special and Intensive Teacher Training Programs.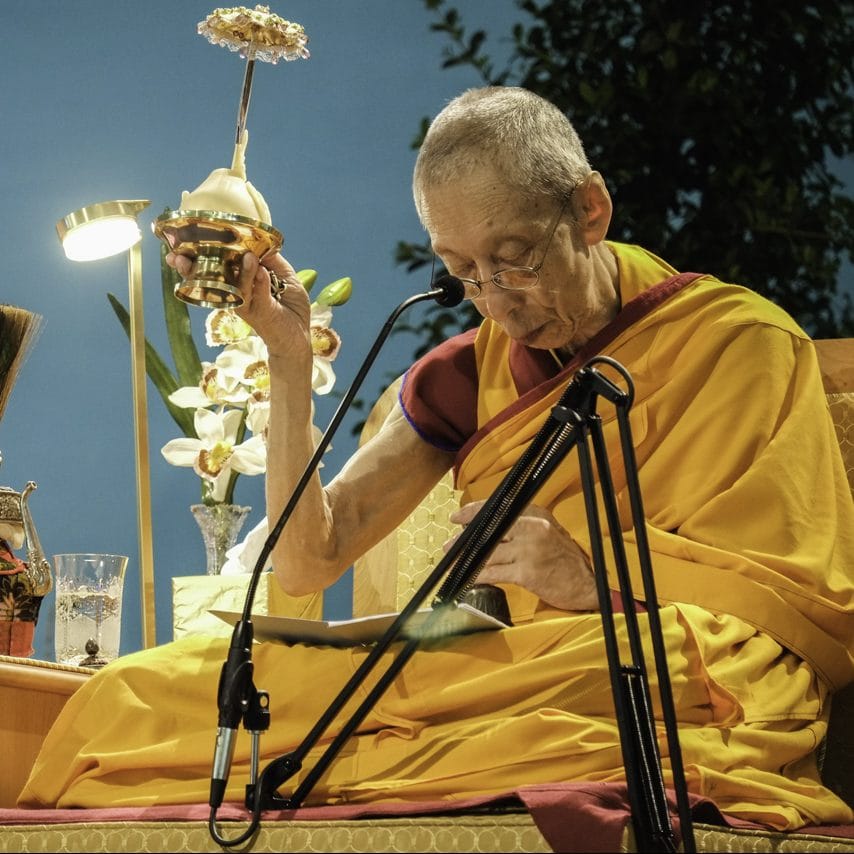 Tantric empowerments & practices
Venerable Geshe-la granted many Tantric empowerments and taught all four classes of Tantra. Based on these, Kadampa centers and practitioners around the world now enjoy authentic Tantric books, sadhanas and practices.
Having himself spent almost a third of his life in retreat, Venerable Geshe-la always encouraged us to engage in retreat to gain authentic experience of Dharma. For our benefit, in 1987, he entered into a three-year retreat in Tharpaland, Scotland. Later, he inaugurated a number of dedicated retreat centers.
Thanks to Venerable Geshe-la's dedication, Kadampa centers around the world now have a complete collection of authentic pujas and prayers in all languages that are the basis of individual and center practices.
Ordained Sangha
Venerable Geshe-la personally ordained hundreds of people as monks and nuns, using a modern presentation of the vows. He established a special tradition that will continue into future generations.
Venerable Geshe-la was the holder of the uncommon lineage of the Ganden Oral Tradition. He transmitted this lineage through his senior disciples, making it available to everyone in the modern world.
The International Kadampa Buddhist Union is a global family of fortunate modern Kadampa disciples bound by a common intention to bring peace into our world by developing peace in our minds. This precious union grows year by year, and Venerable Geshe-la's enduring legacy is the conviction that world peace is really possible through the practice of Kadam Dharma.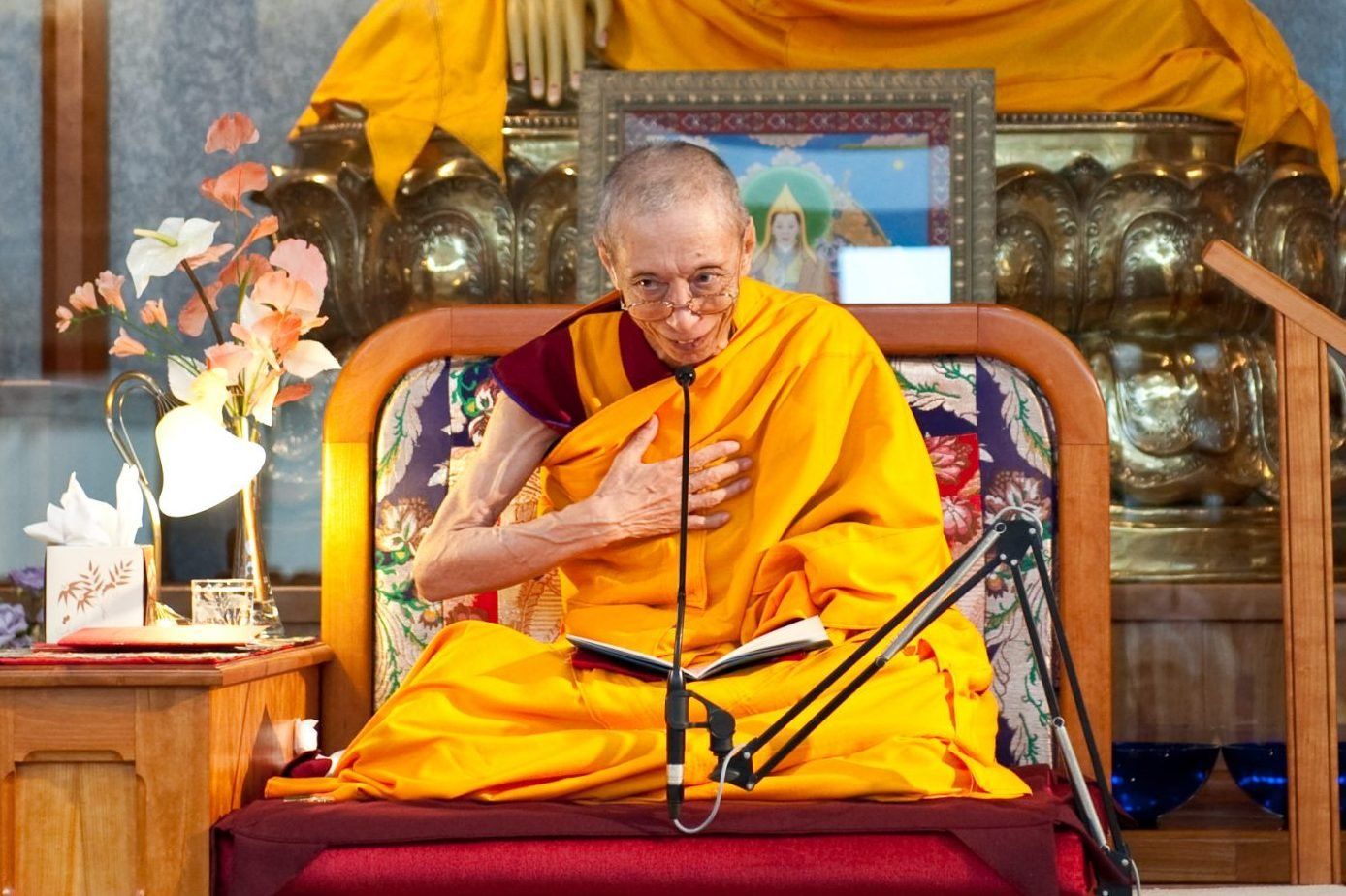 The birth OF MODERN BUDDHISM
As Venerable Geshe Kelsang Gyatso Rinpoche explains in his book The Mirror of Dharma:
"The Indian Buddhist Master Atisha founded the Kadampa lineage in general, and Je Tsongkhapa founded the New Kadampa lineage in particular. Both lineages are the very essence of Buddha's teachings and are most suitable for people of this modern age."
In recent times, Venerable Geshe-la brought these two precious lineages into the modern world and founded the New Kadampa Tradition (NKT-IKBU).
Thus modern Kadampa Buddhism was born.
This precious tradition embraces all the essential teachings of Sutra and Tantra taught by Buddha himself as preserved and passed to the present day by great masters such as Atisha and Je Tsongkhapa.
While faithfully preserving the meaning of these ancient teachings, with the permission of his own Spiritual Guide Trijang Rinpoche, Venerable Geshe-la prepared a new presentation making them easier to understand and apply in the modern world.
Now for the first time, pure Kadam Dharma is available equally to everyone throughout the world regardless of nationality, culture, gender or age.
Venerable Geshe Kelsang Gyatso Rinpoche left an extraordinary legacy from his life's work and inspired thousands of people of all nationalities to continue creating the conditions for pure Kadam Dharma to spread throughout the world.
I will always be with you
Venerable Geshe-la tells us he visits all Kadampa centers with his mind every day, and would often say:
"I will always be with you."
Venerable Geshe-la taught us how to rely on Guru Sumati Buddha Heruka continuously by holding him in our heart at all times, receiving blessings directly from him and eventually transforming our mind and becoming one with him.
In the precious prayer Request to the Holy Spiritual Guide, which we now recite daily, we pray:
You who take on the great responsibility of caring in every way for the doctrine and migrators,
Giving to everyone equally, without discrimination, the precious opportunity to accomplish one's own purpose and the purpose of others;
O Guru Sumati Buddha Heruka, 
Please remain at my heart forever, 
So that all directions will be pervaded by your matchless, excellent deeds.
Continuing the Guru's work
During his life, Venerable Geshe-la performed countless emanation actions for the benefit of the people of this world, laying the foundation for Kadam Dharma to flourish in this and all future generations, and bringing true peace and happiness to countless living beings.
These activities are seeds that we can continue to nurture during our daily actions. In this way we can dedicate ourselves to fulfilling his heart wishes. Nothing will hold us closer to him than this.
As we can see, in so many ways Venerable Geshe-la will always be with us, and us with him.