Modern Kadampa Buddhism is a special presentation of Buddha's teachings for the modern world.
It is open to everyone whether Buddhist or not regardless of nationality, age or gender.

On the website booking page you can now register to attend the Festival in-person, book on-site accommodation including single and twin rooms, shared rooms, dormitory marquees and camping in the grounds.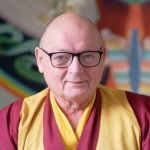 Offering medicines and ourself as a servant. How to overcome the 404 diseases of the delusions
Local, regional and international meditation courses & retreats
Founder, teachings and practices of Modern Kadampa Buddhism
Temples, meditation centers, city spaces and retreat centers worldwide
The main function of the Buddha Jewel is to reveal the spiritual path to disciples by giving perfect Dharma teachings; the main function of the Dharma Jewel is to protect living beings from fear and suffering; and the main function of the Sangha Jewel is to help others by setting a good example. If we go for refuge knowing this, this is going for refuge understanding the different functions of the Three Jewels.
Venerable Geshe Kelsang Gyatso Rinpoche,
Joyful Path of Good Fortune