Kadampa Art Studio Training Course
A Special Training Program for Future Temples & Art Projects
The New Kadampa Tradition - International Kadampa Buddhist Union is developing many  Temples and Kadampa Meditation Centers internationally.
There is a need for more skilled individuals to help with such projects, therefore the Kadampa Art Studio will be offering a six month Statue Production Training Course to develop a foundation of experience for Kadampas wishing to contribute to these auspicious projects.
For more information and application email: kas_volunteering@kadampa.org
Training will be given in following areas
Mould making & 3D design
Casting
Finishing
Spraying
Gilding
Statue Filling
Packaging & Handling
Health & Safety
Who should take this course?
This course is designed for people wishing to learn skills related to statue production for International Kadampa Temple/Center projects. 
The course is intended to be comprehensive and will be tailored to applicants' aptitudes. It will emphasise building a foundation of knowledge through theory and practice as the students work with ongoing projects. Participants will rotate departments to gain experience in a variety of areas.
Please note the course does not include freehand painting due to the specialised nature of this work. 
Those with an interest do not need to have an artistic background. Skills most suitable would be: good eye for detail, ability to work with their hands and a practical approach to work. 
Beyond this course, applicants will be expected to carry on their training by helping on NKT projects, potentially travelling and staying at project locations, or working at the Studio. 
Applicants will complete an online application form, provide references and take an online interview. Availability to help on projects after the course will be part of the selection criteria. Travel restrictions may apply depending on nationality.
The course will be organised around individuals' arrival dates and availability of training objects. It is likely the participant will develop some areas of specialisation during the course which the program will accommodate.
All participants will be given some base training in each area. However, it will be possible to opt out of certain modules (for example Spraying) if found to be impractical.
You will be provided with dormitory accommodation, meals and access to General Programme classes at Manjushri. Travel costs are not included.
Evaluations will be conducted during the course by instructors with theory and practical reviews.
Manjushri Kadampa Meditation Centre, Ulverston LA12 9QQ, United Kingdom
We ask that you notify us of a preferred arrival date (between Oct-Dec 2021) that we can take into consideration. The course will last 6 months from when you arrive.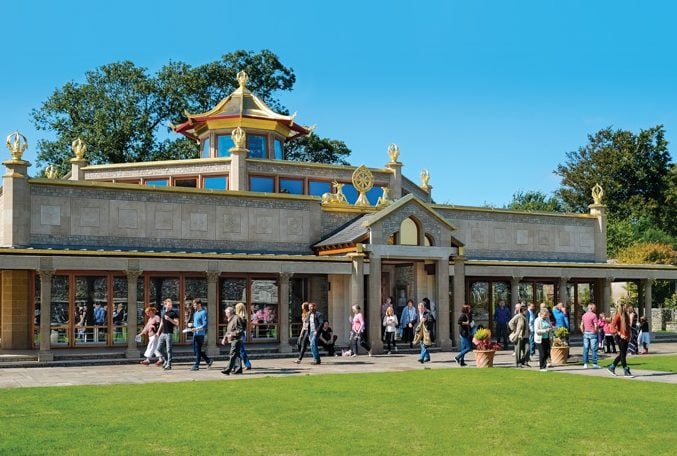 Mould making & 3D design
*subject to trainer availability
Computer Design

3D printing 

Producing Originals

Mould Design

Clay work

Using Jesmonite

Using Silicone 
Casting
Product knowledge 

Machine and tool knowledge 

Mould preparation

Casting methods

Demoulding
Finishing
Surface preparation

Substrate knowledge

Tools 

Sanding / keying

Fault identification and repair works

Assembly of statues 

Sculpting repairs
Spraying
Set up

Surface cleaning and masking

Paint knowledge 

Spray equipment knowledge

Spraying techniques

Spraying Size
Gilding
Handling and cutting the gold
Size
Gilding an object
Quality control including 'faulting' an object
Storing the gold and gilding equipment
Statue Filling
Preparing the Statue

Training in instructions according to the 'statue filling booklet'

Mantra rolling

Central channel 

Statue handling 

Hatch and sealing statue
Packaging and Handling
Box making

Knowledge of materials

Handling statues
Health and Safety
Activity specific Health and Safety