A week of extraordinary blessings
The Festival has drawn to a close and we finish with one last video sent in by Clare from Portland Maine, who in so many ways captures the spirit and significance of this extraordinary event.
Enjoy and share the highlights of the 2020 International Fall Festival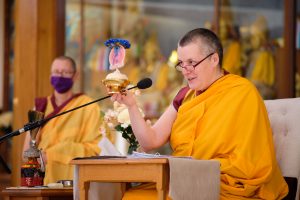 Yesterday, Medicine Guru appeared for us to bestow special blessings to transform our body, speech and mind into those of Medicine Guru through the power of Tantra. In a powerful and blissful empowerment, Gen-la Dekyong explained that when the world is pervaded entirely by problems and dangers due to uncontrolled minds and inappropriate actions, the practice of relying on the Medicine Buddhas is so important.