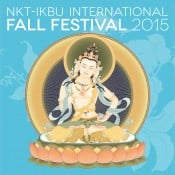 KMC France will, for the first time, host the International Fall Festival. If you have never visited KMC France, or perhaps never been to an International Festival, now is the perfect opportunity.
Receive Inspiring and Life-Changing Teachings
One of the most powerful methods Buddha taught to purify our mind is the meditation and recitation of Vajrasattva. Through this practice, we can swiftly and joyfully cleanse our mind of all impurity and eventually become a pure being, abiding in a pure world with the power to draw others to the bliss of perfect freedom.
Gen-la Kelsang Dekyong, NKT-IKBU General Spiritual Director, has been a disciple of Venerable Geshe Kelsang Gyatso Rinpoche for over 30 years. She regularly teaches at major events throughout the world and is known for her good heart, powerful teachings and sincere, inspiring, example. Gen-la Dekyong will grant the blessing empowerment of Buddha Vajrasattva and give teachings on how to purify our mind and our world.
Enjoy a Meaningful, Spiritual Holiday
KMC France is the perfect place to enjoy a relaxing, meaningful and spiritual holiday in the company of like-minded friends. This traditional French chateau is surrounded by extensive woodlands, with tranquil walks through the surrounding countryside.
Accommodation is offered both at the Chateau itself, and at nearby hotels. Daily transport is offered for those staying in offsite Festival hotels.
France's excellent high-speed rail network means that KMC France is only 1.5 – 2 hours from Paris' main airports.
Get Involved!
All aspects of the Festival are run by volunteers. What better way to know what makes our International Kadampa Festivals unique than by getting involved; a great opportunity to meet with people from all around the world. As well as getting involved during the Festival, there are also opportunities to help both before and after the Festival. Visit volunteer at the Fall Festival for more information.
We look forward to seeing you soon!