The Featured Center series begins this month with a presentation of two centers: KMC France and KMC Paris.
Historically the two centers are very close because they both developed from the same seed. But more than that, the way they work together illustrates perfectly Venerable Geshe Kelsang Gyato Rinpoche's vision of an International Kadampa Buddhist Union.
Early 2007, Kadampa Buddhist Center Bodhitchitta in Paris moved to la Sarthe near Le Mans to become Kadampa Meditation Center France.
Meanwhile in Paris KBC Bodhichitta was replaced with KBC Shakyamouni, later to become KMC Paris.
Whereas KMC France is located in a peaceful rural setting offering short and long courses, retreats and residential accommodation, KMC Paris is located in a busy vibrant part of a thriving city offering non-residential evening classes, day courses, weekend events and short retreats.
ACTING IN UNION
Although the two KMCs thrive in radically different environments, over the years a natural synergy has developed between them, and they complement and support each other in many ways.
Because of its reputation as a national center of NKT-IKBU in France, for Parisians KMC France is often the first point of contact with the tradition.
Here they learn the value and benefits of meditation, and especially of meditation retreat. So they are delighted when they discover there is a City Center of the same tradition offering the same programs where they live and work.
And for people in the city who attend classes at KMC Paris, KMC France provides a perfect location for weekend or longer getaways, and a chance to enjoy the benefits of mediation retreat in a perfectly conducive environment.
The two centers are approximately two hours apart.
KMC France is located near the city of Le Mans in an area of spectacular natural beauty. It is the first Kadampa retreat center and the home of modern Kadampa Buddhism in France.
The principal building the magnificent Château de Segrais, and the outlying. buildings, were renovated under the auspices of the International Temples Project largely through the help of volunteers.
It is surrounded by a moat and extensive woodland, and the numerous paths through the forest offer a perfect opportunity to let go of the stress of life. Deer, pheasants and other animals make their home in this tranquil environment.
The center is home to a warm and friendly community of around 25 residents who strive to exemplify Buddhist practice through service to the public. Like Kadampa communities around the world, the residents are dedicated to achieving world peace through supporting the development of modern Buddhism and following the Buddhist path in their own lives.
Offering a variety of accommodation, the center caters for all types of visitor, and everyone is afforded a warm and genuine welcome.
KMC France is also the home of Les Éditions Tharpa, which translates and distributes Venerable Geshe Kelsang Gyatso Rinpoche's books throughout the French-speaking world.
KMC France was blessed and opened in 2008 by Venerable Geshe Kelsang Gyatso Rinpoche, who visited the center just before granting empowerment and teachings at the International Fall Festival in Paris.
Venerable Geshe-la toured the building inside and out and presided over a special puja to bless the center.
Like all Modern Kadampa Buddhist centers, KMC France offers the three study and meditation programs: the General Program, Foundation Program and Teacher Training Program.
Because KMC France is the mother center of the New Kadampa Tradition in France, people from all over France come either to discover Kadam Dharma or to deepen their understanding by attending retreats.
Twice a year, national events are also held at KMC France, bringing together the entire French Kadampa Buddhist community. These blessed events provide an opportunity to experience Venerable Geshe-la's vision of how world peace can be achieved through developing a good heart and wisdom.
For more information on the center and its program visit www.kadampafrance.org.
The Principal Teacher at KMC France is Gen Kelsang Eupamé.
When Venerable Geshe-la chose Château de Segrais to establish the main center of the New Kadampa Tradition in France, he appointed Gen Eupamé as both Principal Teacher of KMC France and National Spiritual Director of NKT-IKBU in France.
Gen Eupamé is appreciated for his clear and kind guidance. He shows with his good heart and sharp wisdom how to use Buddha's teachings in a practical way in the context of our modern daily life.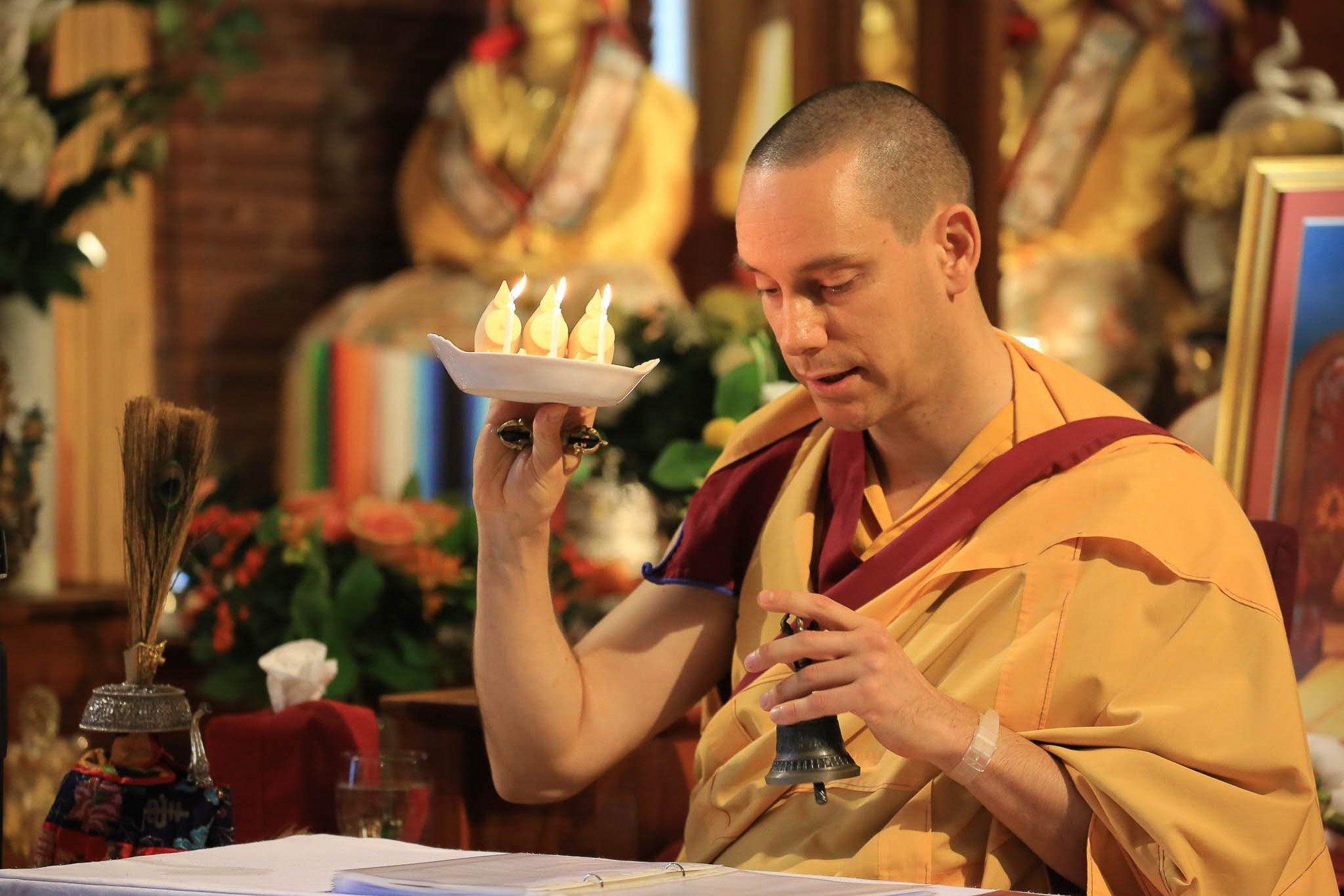 Located just 200 meters from the Gare du Nord, the busiest railway station in Europe, KMC Paris is a special, peaceful place at the heart of the capital city.
It is situated on the ground floor of a beautiful Haussmannian building.
The exquisite 500 square meter space is dedicated to inner peace with two sound-proofed meditation rooms, a courtyard, a brightly lit shop/café and a quiet relaxation area.
KMC Paris offers a varied program of classes and meditations ideally suited to those living and working in a busy city, including themed meditation classes every lunchtime and evening.
As with KMC France, KMC Paris also offers the three study and meditation programs: the General Program, Foundation Program and Teacher Training Program.
The center is especially focused on the needs of people living and working in a busy city and this is reflected in the strong evening and weekend programs.
To find out more about KMC Paris and its program visit www.meditation-paris.org.
The Principal Teacher at KMC Paris is Gen Kelsang Tonpa. Gen Tonpa has taught for several years in Paris.
He teaches Buddhist meditation with a good heart, wisdom and clarity. Thanks to his love of life and his natural enthusiasm, he positively encourages his students to apply lessons from Buddha's teachings in their everyday life.