Welcome to the 2022 Summer Festival
The blessings of Buddha Shakyamuni
Yesterday we had the great good fortune to receive the empowerment of Buddha Shakyamuni from Gen-la khyenrab, retired General Spiritual Director.
Practicing Buddha's teachings is the only way to find permanent inner peace
Gen-la started by telling us about Buddha Shakyamuni's life story to deepen our understanding and faith. He helped us to understand and connect to the logic that Buddha is still appearing in our world, that Buddhas cannot help but to continue to appear, and therefore we can view our own Spiritual Guide correctly and unmistakenly as a living emanation of Buddha.
Gen-la guided us very smoothly and powerfully through the stages of the empowerment, empowering us to overcome our delusions, our self-cherishing and eventually our ordinary appearance.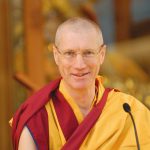 How Buddha Dharma helps us overcome our principal enemy of self grasping ignorance