Welcome to the 2022 Summer Festival
Gen-la encouraged us to immerse ourself in the festival to gain authentic personal experience of the magic that Kadam Dharma can bring into our lives. She reminded us that spiritual holidays are when we have a holiday from our delusions, and she gave us special techniques to do this.
"I really appreciated that she gave us a quick method to apply to all challenging situations - 'the practice of stopping'. She encouraged us here at the festival, to stop uncontrolled desire, stop self cherishing,  stop self-grasping - and she had everyone laughing when she said it included to stop complaining! When our mind starts to grumble we should be unmoving like wood, and then we can try to focus on others rather than ourselves, and remember it's all like a dream. Perfect preparation for the Festival."
Learning to Live Lightly Without Grasping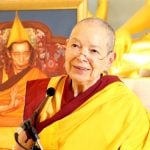 How we come to understand our Spiritual Father's view, intentions and actions
The following morning, the first meditation of the Festival was led by Gen Tonglam, National Spiritual Director of Hong Kong, Taiwan & Philippines