Day 5 ~ a truly inspiring day
The Guru's Heart is the destination
Yesterday, Je Tsongkhapa Day, Gen-la continued her commentary to the practice of The Path to Heaven.
As with the previous days, the morning started with a meditation guided by Gen Chodor, and yesterday we were led through the actual practice in the meditation session.
Then Gen-la gave another two extraordinary teachings. In the first she taught how to gain deep familiarity with the practice over many sessions, each time staying longer with the experience of our mind mixed with the bliss and emptiness at the heart of Guru Tara, our destination. The teaching finished with a truly inspiring explanation of what a Pure Land is and what we will experience when we accomplish it.
We all left with a strong wish to go there!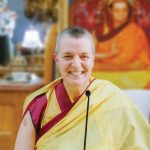 Its our daily practice that takes us to the Pure Land
In the second teaching Gen-la taught the fourth of the five bases of the path to liberation, explaining the nature of a person, how we are so confused about who we are, and how to overcome this confusion and realise the true nature of our self.
Following Venerable Geshe-la's original teachings we were encouraged to ask questions such as, 'Who am I, Where am I?' And bathe in the profound wisdom answers Venerable Geshe-la gave.
Extraordinary!
And throughout the day, Gen-la reminded us of the remarkable qualities of Guru Tsongkhapa, the source of all the happiness and joy we are enjoying. The day finished with an international Offering to the Spiritual Guide puja.
Today, Gen-la gives the concluding teaching and then we move to the next stage - retreat with Gen Rabten. How wonderful!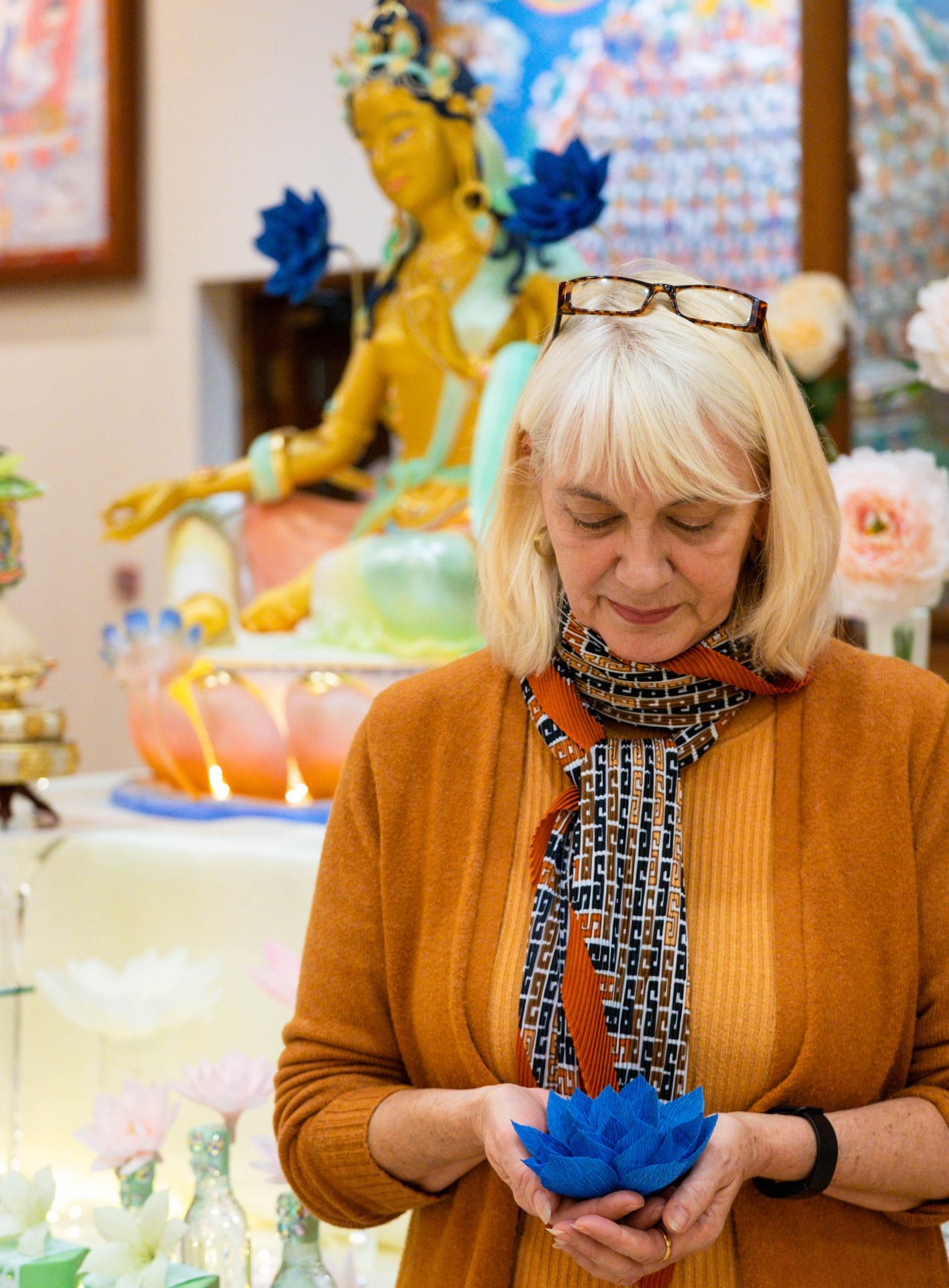 As always, the main Festival shrine was prepared with great love and devotion by an inspired team. Each flower, for example, was handcrafted, with each one being assembled from 26 petals painstakingly cut by hand. The new Tara statue, appearing for the first time, is simply breathtaking. Watch the video to learn more.
Guru Tsongkhapa, a constant companion
Work begins on the new accommodation block at the Málaga temple site
the international kadampa family online
PLEASE NOTE SUBMISSIONS FOR THIS SECTION WILL CLOSE AT NOON WEDNESDAY 24, UK TIME.
the festival around the world
Use the buttons at the bottom or swipe for more
DYING WITH A HAPPY MIND MEANS LIVING WITH A HAPPY MIND
I was really struck by Gen-la's teaching on how we can die with a happy mind. She said that many times we want to know what to practise when we are dying, but in truth we should want to know what to practice when we are living!
We understand that we need a happy mind when are dying, but unless we are familiar with keeping a happy mind each day while we are alive, how are we suddenly going to develop a happy mind at the time of death? As Gen-la says, 'How are we going to pull a happy mind out of a mind that has been unhappy all its life?'
She said, it's our daily practice that takes us to the Pure Land.  We do our daily practices every day and through this we will naturally be happy when we are dying. If what we are most familiar with is a happy mind we do not have to worry at our death time.
Such a practical and powerful teaching!
NILS, UK
EL CORAZÓN DE MI GURÚ ES MI DESTINO
A un mes de descubrir Kadampa, hoy estoy llena de gozo por haberlos encontrado. Ya me considero parte de esta gran y maravillosa familia.
Hoy sé que Arya Tara está y estará en mi corazón siempre, con ella en mi vida aprenderé a vencer mis obstáculos y lograr viajar a la gran Tierra Pura del Dharmakaya hoy lo sé, lo creo y lo visualizo.
Que regalo tan maravilloso me han dado de bienvenida: El festival de Otoño hasta mi hogar!
Gracias a todos los que han logrado que esto sea posible, enviando tantas enseñanzas y gozo a miles de corazones esparcidos por todo el mundo.
"El corazón de mi Gurú es mi Destino"
LUPIRA, MEXICO