Medicine Buddha Empowerment and Teachings on
Healing the Mind with Buddhist monk and international Meditation Teacher, Gen-la Kelsang Khyenrab
Manjushri KMC, UK

At International Festivals we have the opportunity to receive Empowerments and Teachings from the General Spiritual Director, Deputy Spiritual Director and Retired General Spiritual Directors. Senior Kadampa Teachers from various countries guide the meditations and lead the retreat.
This year at the International Spring Festival, Gen-la Kelsang Khyenrab, retired General Spiritual Director and Resident Teacher at KMC Canada, will grant the blessing empowerment and teachings on the practice of the 'Buddha Doctor' – Medicine Buddha. By relying sincerely upon this practice, we can cure our own principal sickness; the sickness of our inner delusions and thereby be free from sickness forever.
Gen-la Khyenrab is known for his powerful and penetrating teachings, and for his pure example, reflecting his many years of reliance upon his Spiritual Guide, his study and meditation practice, and his ability to unify Kadam Dharma with his busy life.
Kadam Neil Elliott, Resident Teacher at KMC London and Special Teacher Training Programme Teacher, will then guide a day and a half of retreat based on Gen-la Khyenrab's commentary. Kadam Neil is renowned for his ability to present the deep meaning of the Teachings in a way that is easy to integrate into daily life.
Meditations throughout the Festival will be led by Gen Kelsang Sangden, Resident Teacher at KMC Mexico.
Information about the Festival Teachers, and general Festival information including programme, fees and accommodation options is available online:
Book Now – kadampafestivals.org/spring
International Kadampa Festivals – Your Spiritual Holidays
Kadampa Festivals are meaningful spiritual holidays suitable for the whole family.
A volunteer-led programme of family activities suitable for children, teens and adults alike is organised daily.  Check out this video to find out more about these activities:

'The main thing we are doing for families at this Festival is trying to help them
to have a fantastic time'
Family Programme Co-ordinator
'There is a lot of peace, a lot of promotion on being kind to one another,
looking after one another, something you don't always get in other places'
Parent
'I can't imagine one year if I didn't come here, what I will do'
Festival 'teen', France
Book Now –  kadampafestivals.org
KMC France – Pure Mind, Pure World

Blessing Empowerment of Buddha Vajrasattva and Teachings on Purification Practice with Gen-la Kelsang Dekyong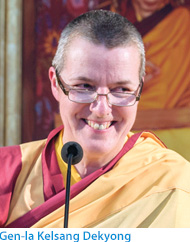 Save the Date!  Booking Opens:  May 7
Website live – very soon!
In a little over three weeks booking will open for the Fall Festival in France. Gen-la Dekyong will grant the blessing empowerment of Buddha Vajrasattva and explain how through this practice, we can swiftly and joyfully cleanse our mind of all impurity and eventually become a pure being, abiding in a pure world with the power to draw others to the bliss of perfect freedom.
KMC France is a stunning venue to host the 2015 Fall Festival. Only 2.5 hours from Paris, it is easily accessible from all European countries, and also worldwide destinations. Fast 'TGV' trains link the main international Paris airports directly with Le Mans (30 mins from KMC France). Festival airport shuttle buses will also be offered.
More Info – kadampafestivals.org/fall