Welcome to the 2022 Summer Festival
DAY 14 ~ Festival Take Away
From the sheer joy of being able to gather again after such a long break through the amazing teachings and Festival experiences, for many people Summer Festival 2022 has been life-changing. Here we share some of their reactions.
Integrating our meditation experience into daily life
Manjushri KMC is a truly magical place, the teachings and meditations at the Festival were truly magical, and the international family brought a special kind of magic to this wonderful event. Thank you everyone!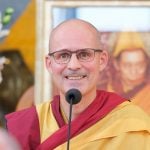 Actively disbelieving an inherently existent self