Templewatch Málaga ~ the story so far
On this page you can keep up with the latest news on the construction of the sixth Kadampa Temple for World Peace at KMC Spain in Málaga, and to catch up on any updates you might have missed.
What a privilege to watch something so auspicious, emanating from the heart of Venerable Geshe Kelsang Gyatso Rinpoche appear before our very eyes!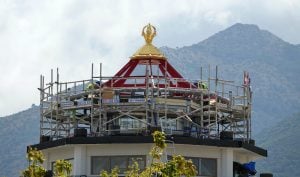 The big day arrived! While some workers were engaged in the stone wall landscaping and others preparing the outer Temple walls for the stucco, the Dharma Wheel, the Lantern Tower and the Crowning Vajra were lifted into place. What an auspicious day!