Templewatch Málaga ~ the story so far
On this page you can keep up with the latest news on the construction of the sixth Kadampa Temple for World Peace at KMC Spain in Málaga, and to catch up on any updates you might have missed.
What a privilege to watch something so auspicious, emanating from the heart of Venerable Geshe Kelsang Gyatso Rinpoche appear before our very eyes!
Be sure to follow the progress and be the first to hear news as the Temple approaches completion and preparations are put in place for the Official Opening Ceremony -
Subscribe to KMC Spain's newsletter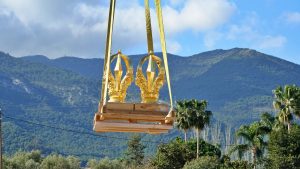 Just as the work on the copper roof nears completion, the 37 golden vajras are placed atop the Temple and the doorways are made ready for the deer and Dharma wheels to be placed in position. Watch this video and discover how important the opening of the Temple will be.