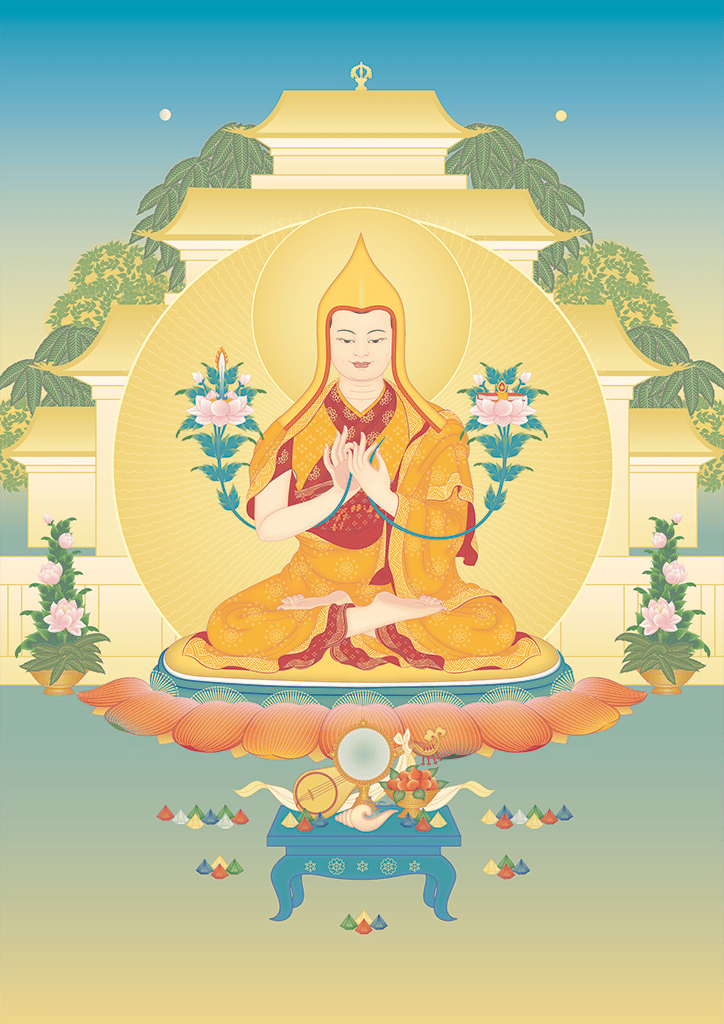 'If we sincerely rely on Je Tsongkhapa and put his oral instructions into practice with strong faith, we will attain enlightenment very quickly.
'The great practitioner Gyalwa Ensapa and many of his followers attained enlightenment within three years through sincerely practising the oral instructions of Je Tsongkhapa. This is magical!
'Many scholars have said that the power of Je Tsongkhapa's blessings and his skilful methods to lead practitioners to the state of enlightenment is unequalled among those of all other Buddhas.
'We should rejoice in having met the doctrine of Je Tsongkhapa, and in having the opportunity to listen to and practise the oral instructions of this precious Guru who is the synthesis of all Buddhas.'
VENERABLE GESHE KELSANG GYATSO RINPOCHE
Great good fortune
What great good fortune to be able to receive the empowerments of Je Tsongkhapa and his Wisdom Protector Dorje Shugden, from Gen-la Kelsang Dekyong and Gen-la Kelsang Jampa, the General and Deputy Spiritual Directors of NKT-IKBU at the 2019 Summer Festival.
And based on this profound blessing to receive an authoritative commentary to Venerable Geshe Kelsang Gyatso Rinpoche's unsurpassed book The Oral Instructions of Mahamudra from these two precious Teachers!
This year's Summer Festival is an opportunity not to be missed. If you have not already done so, there is still time to book.