Buddhismus und Meditation für die Welt von Heute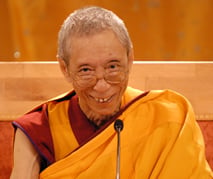 Willkommen auf der Webseite der Neuen Kadampa Tradition – Internationale Union des Kadampa- Buddhismus, die vom Ehrwürdigen Geshe Kelsang Gyatso gegründet wurde.
Hier finden Sie Informationen über:
Buddhistische Meditationszentren
Buddhistische Meditationskurse
Bücher über Buddhismus und Meditation
Internationale Festivals des Kadampa-Buddhismus
Tempel des Kadampa-Buddhismus
Benutzen Sie die oben angegebenen Links, um mehr zu entdecken.
Inspiring Quote
The mind that cherishes others is the supreme good heart. Keeping such a good heart will result only in happiness for ourself and all those around us. This good heart is the very essence of the Mahayana path and the main cause of great compassion, the wish to protect all living beings from fear and suffering. Through improving our great compassion we shall eventually achieve the universal compassion of a Buddha, which actually has the power to protect all living beings from suffering. In this way cherishing others leads us to Buddhahood.
Geshe Kelsang Gyatso