Buddhismus und Meditation für die Welt von Heute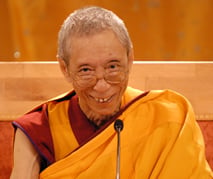 Willkommen auf der Webseite der Neuen Kadampa Tradition – Internationale Union des Kadampa- Buddhismus, die vom Ehrwürdigen Geshe Kelsang Gyatso gegründet wurde.
Hier finden Sie Informationen über:
Buddhistische Meditationszentren
Buddhistische Meditationskurse
Bücher über Buddhismus und Meditation
Internationale Festivals des Kadampa-Buddhismus
Tempel des Kadampa-Buddhismus
Benutzen Sie die oben angegebenen Links, um mehr zu entdecken.
Inspiring Quote
It is dangerous to think that we shall practice when we have finished our present job because there are always other jobs to be done. Gungtang Rinpoche said that worldly activities are like an old man's beard – though he made shave it off in the morning, it has grown again by the evening. Since worldly work is endless we need to practice Dharma while we are engaging in all our daily tasks.
Geshe Kelsang Gyatso