Buddhismus und Meditation für die Welt von Heute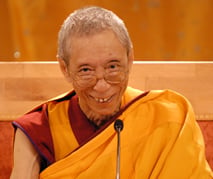 Willkommen auf der Webseite der Neuen Kadampa Tradition – Internationale Union des Kadampa- Buddhismus, die vom Ehrwürdigen Geshe Kelsang Gyatso gegründet wurde.
Hier finden Sie Informationen über:
Buddhistische Meditationszentren
Buddhistische Meditationskurse
Bücher über Buddhismus und Meditation
Internationale Festivals des Kadampa-Buddhismus
Tempel des Kadampa-Buddhismus
Benutzen Sie die oben angegebenen Links, um mehr zu entdecken.
Inspiring Quote
Although we need to be acutely aware of our faults we must never allow ourself to become overwhelmed or discouraged by them. We may have a lot of anger in our mind but this does not mean that we are an inherently angry person. No matter how many delusions we have or how strong they are, they are not an essential part of our mind. They are defilement a that temporarily pollute our mind but do not sully it's pure, essential nature. They are like mud that dirties water but never becomes an intrinsic part of it. Just as mud can always be removed to reveal the pure, clear water, so delusions can be removed to reveal the natural purity and clarity of our mind.
Geshe Kelsang Gyatso