Buddhismus und Meditation für die Welt von Heute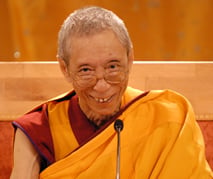 Willkommen auf der Webseite der Neuen Kadampa Tradition – Internationale Union des Kadampa- Buddhismus, die vom Ehrwürdigen Geshe Kelsang Gyatso gegründet wurde.
Hier finden Sie Informationen über:
Buddhistische Meditationszentren
Buddhistische Meditationskurse
Bücher über Buddhismus und Meditation
Internationale Festivals des Kadampa-Buddhismus
Tempel des Kadampa-Buddhismus
Benutzen Sie die oben angegebenen Links, um mehr zu entdecken.
Inspiring Quote
The purpose of understanding and believing in karma is to prevent future suffering and to establish the basic foundation for the path to liberation and enlightenment.  Generally, karma means 'action'. From non-virtuous actions comes suffering and from virtuous actions comes happiness: if we believe this, we believe in karma.  Buddha gave extensive teachings that prove the truth of this statement, and many different examples that show the special connection between the actions of our former lives and our experiences in this life, some of which are explained in Joyful Path of Good Fortune.
Geshe Kelsang Gyatso