Kadampa Meditation Center New York is an internationally renowned center for meditation, where everyone is welcome to enjoy a peaceful environment or join in the many programs offered throughout the year. Whether you are looking for a day visit to the World Peace Temple, the 82 acre grounds and nature trails, an introduction to Buddhist meditation, or in depth courses and retreats, KMC New York offers an enjoyable and meaningful experience.
The main shrine, designed by Venerable Geshe Kelsang Gyatso Rinpoche, includes a beautiful statue of Buddha, cast from the same mold as the statue at Manjushri KMC, the NKT mother center in the UK.
On either side of the shrine there are two recently installed cabinets housing all the teachings of Buddha and their principal commentaries.
Kadampa MEditation Center New York
The Temple is located at Kadampa Meditation Center New York in New York, USA. Founded by Venerable Geshe Kelsang Gyatso Rinpoche, KMC New York and its community show by example how world peace is possible.
Gen Samten Kelsang is the Resident Teacher at KMC New York.
As one of Venerable Geshe-la's senior disciples, Gen Samten has had the unique opportunity to engage in a three-year retreat and carries with him a wealth of experience in skillfully guiding sincere practitioners to profound meditative insights on retreat.
In addition to overseeing the spiritual program and teaching at KMC New York, Gen Samten regularly teaches throughout the US and world. He is renowned for the clarity of his teachings and his ability to help students improve their meditation practice, taking them to deeper levels of experience.
Kadam Kyle Davis is the Second Teacher at KMC New York.
Over the past seven years, Kadam Kyle has taught at centers in Boston, MA, New Bedford, MA and Providence, RI. He was recently appointed as the Second Teacher at Kadampa Meditation Center New York.
Kadam Kyle has engaged in in-depth study at both the Temple in New York and on the Special Teacher Training Program at Manjushri Kadampa Meditation Centre.
A New Accommodations & Dining Facility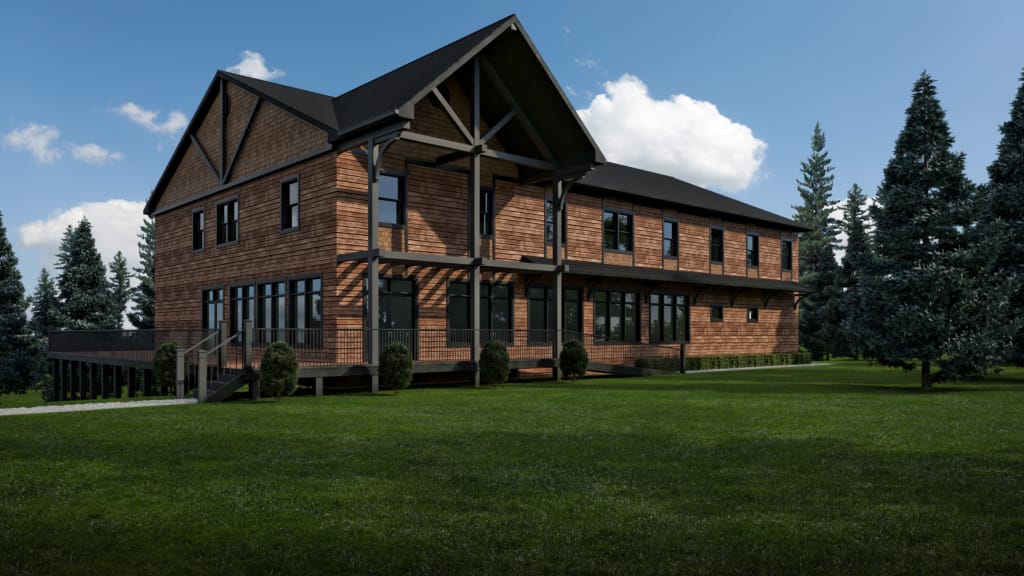 As demand for the teachings and practices of Kadam Dharma continues to grow, KMC New York has embarked on building a new dining and accommodations facility.
Completion of the new building is planned for Fall 2022.
This new building will include:
15 New Comfortable Accommodations
A Large, Modern Commercial Kitchen
Camper's toilets, showers, and laundry room
KMC New York stands on eighty-two acres of gardens and woodland with a lake, streams, and numerous walks on the outskirts of New York. The grounds are open to the public every day from dawn to dusk.
There are many opportunities to attend the center as a volunteer visitor. See the KMC New York volunteer page for more details and the application form.
KMC New York has a full spiritual program that runs throughout the year that besides the evening classes offers day courses, weekend courses, retreats and International Festivals.
The Temple also houses our World Peace Café and bookstore and gift shop. The café offers locally roasted coffee, loose leaf tea, cold drinks, snacks and baked goods. The bookstore and gift shop carries a range of unique gifts, cards, meditation accessories, Buddhist art, and books on Buddhism and meditation.
Address
US Kadampa World Peace Temple, 47 Sweeney Rd, Glen Spey, NY 12737, USA
Closest train station
New Jersey Transit to Port Jervis, NY from the New York City area, including Newark Airport and New York Penn Station.
Closest bus station
There are two local stops with Coach USA from Port Authority:
Matamoras, PA: Stops at the Best Western where you can wait in the lobby for a taxi. Approximately a $30 taxi ride from here to KMC NY
Port Jervis, NY: Stops at a parking lot. Approximately a $30 taxi ride from here to KMC NY
Closest air port
Newark (EWR) – approx. 1 hr 50 min away