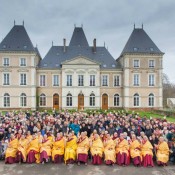 Where will you be in the first week of October?
How about spending a peaceful week in a beautiful French Chateau purifying your mind?
October 2- 8 Gen-la Dekyong will grant empowerment and give teachings on Vajrasattva, the Buddha of purification, and senior NKT teachers will lead meditations guiding us through this powerful practise.
Enjoy daily meditation with people from all over the world who share a common wish to improve their human nature and qualities through developing the capacity of their mind.
Come away refreshed, invigorated and inspired – equipped with the essential tools to transform your everyday life into a meaningful spiritual path that brings immense benefit to both yourself and those with whom you live and work.
Still not sure? Watch this beautiful video and you cannot fail to be inspired:
Accommodation Update
Accommodation is still available in all the offsite Festival hotels,
the majority of which are within a 15 minute drive of KMC France.
All Festival Hotels can be booked through the Festival website.
If you already have a Festival booking and would like to add accommodation you can do so through your booking cart.
Chateau de Bezonnais
Only a 15 minute drive from the KMC, this tranquil traditional Chateau is complete with moat and resident swans and ducks! Guests are accommodated in either the Chateau itself, or in 'Gite' – which are rustic, farmhouse accommodations.
Hotel du Commerce
Is a typical family-style budget hotel in the nearby village of Ecommoy – only 10m minutes from the KMC. Ensuite rooms are still available.
Hotel Kyriad
Also a 15 minute drive from the KMC is Hotel Kyriad in the town of Mulsanne. A few rooms remain in this popular hotel.
B & B Hotel
A 25 minute drive from KMC France, B & B Hotel is situated on the edge of a small lake in the nearby town of Arnage, close to Le Mans.
Hotel Shuttles
Are available for those without their own transport. Typically shuttles make two trips each morning and evening, with flexibility to arrive at KMC France either for the morning meditation session or slightly later. In the evening shuttles normally depart the KMC at the end of the evening meal, and again after puja.
We look forward to seeing you soon!